I attended Scott Kelby's Worldwide Photo Walk yesterday. This year I attended the Bondi beach walk with a large group of people (around 40 people). I didn't actually know any of the other people on my walk although a number of them were Google Plus Circle friends
. It was great to meet some of them in person.
Our walk started at 3:30PM on Bondi beach and went well into the evening (even though the "official" end time was 5:30PM).
This was my first actual shoot with my new Nikon D600 full frame camera so I was looking forward to what it could do and the day was essentially a good test run for me.
I only brought a couple lenses so I started with the 85/1.8G and stuck with that for the majority of the time we wandered along the beach area. Here's one, watching the day go by...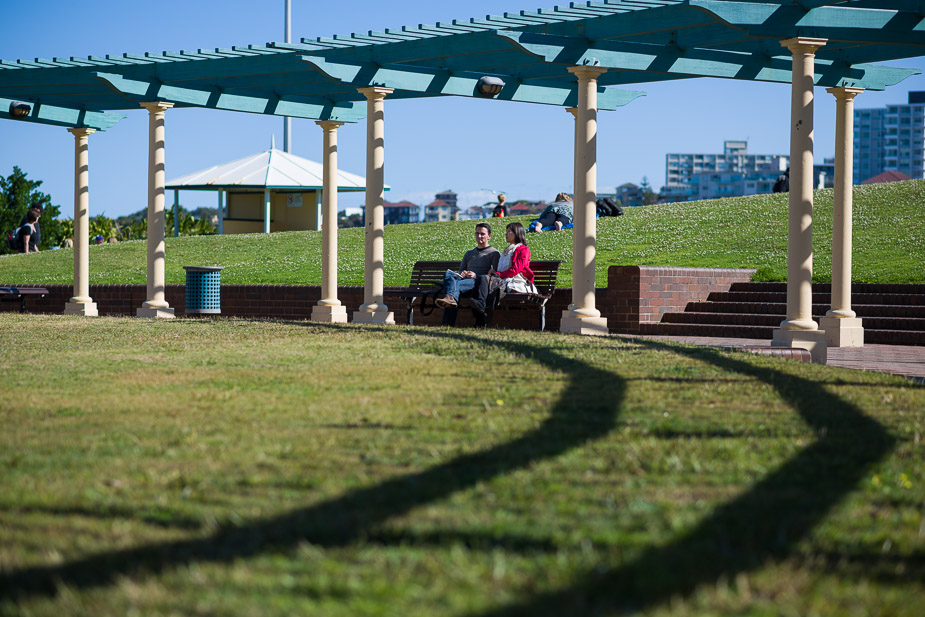 and of course the Bondi lifeguard tower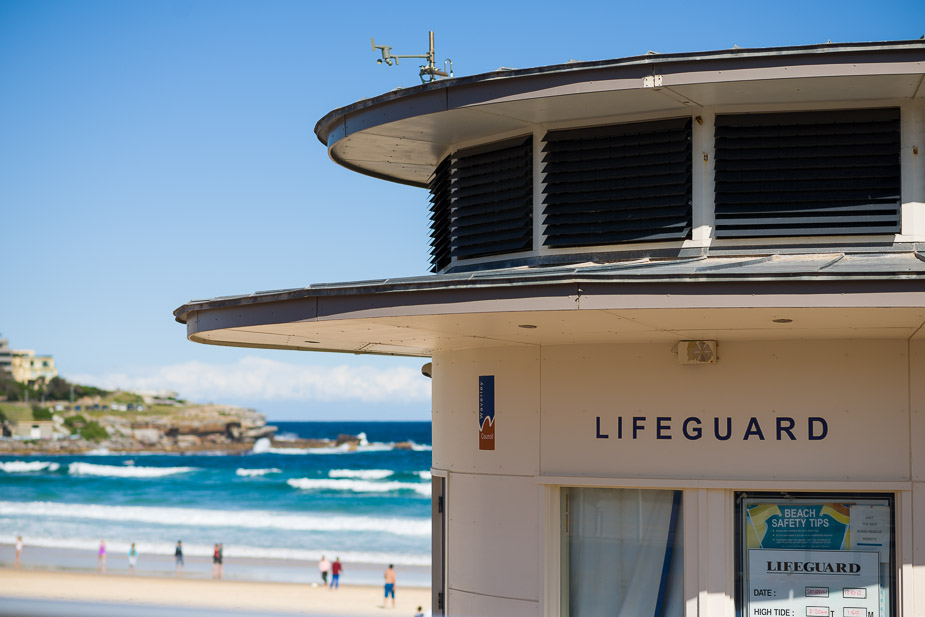 When we got down to the southern end of the beach where the skateboarders were in action I stared with the 85/1.8G capturing some of the kids doing aerials on their boards. I'd also brought my Tokina 12-24/4 lens to use for some sunset landscapes (this is a crop sensor DX lens so I wanted to see what it was like shooting it in FX
mod
e (not AutoDX crop
mod
e) but zoomed in till it didn't vignette (around 20mm)... to see just how unsharp and ugly it might be
). Ideally I'd like to get an FX UWA (like the Nikon 16-36/4 or 17-35/2.
but for now I'm making do for my landscape work. I thought I'd try some close up extreme wide angle action so fitted the Tokina 12-24 and also got out the SB-900 flash. I underexposed ambient by about one and a half stops and set the flash to about a stop and a half over and thought I'd try some AutoFP High Speed Sync action. Here is one at 20mm and 1/1600 sec with flash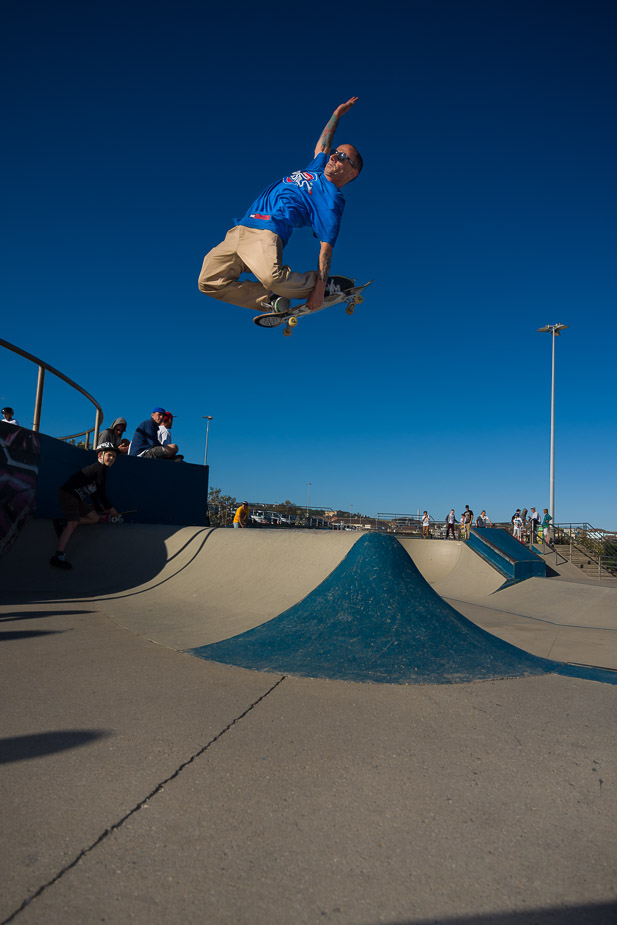 I took one set of HDR brackets to try out - along the side of the Bondi pavilion - a scene with direct strong afternoon sunlight coming in angled from the left creating hard shadows into this long alcove - I'd be shooting into the dark areas as well as outdoors into open sun. I fully expected the scene be too difficult and too wide a dynamic range for the camera to capture so I shot it with a bracket of 3 shots - 0EV, -3EV and +3EV. Whilst the HDR image came out fine - what was most surprising is that the 0EV image as shot had no blown highlights and no loss of shadow detail - see the two images for comparison (pick the HDR) - perhaps a telltale sign of the reputed dynamic range capabilities of the new Nikon sensors?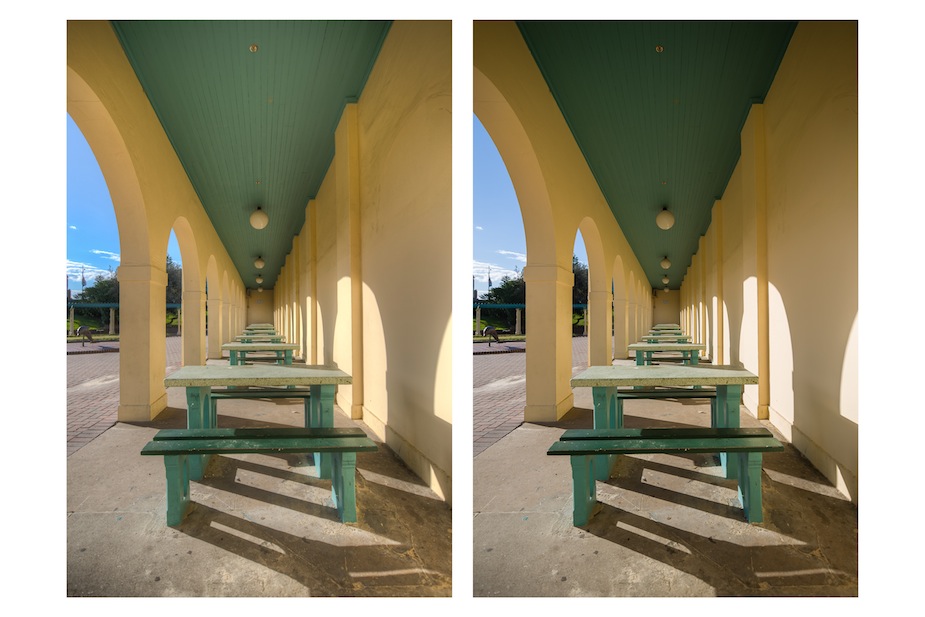 After a much needed respite at the pub waiting for sunset to get a little closer, we headed towards the northern end of the beach for some sunset action. On the way we had a great view back along the beach as the sun was heading down towards the horizon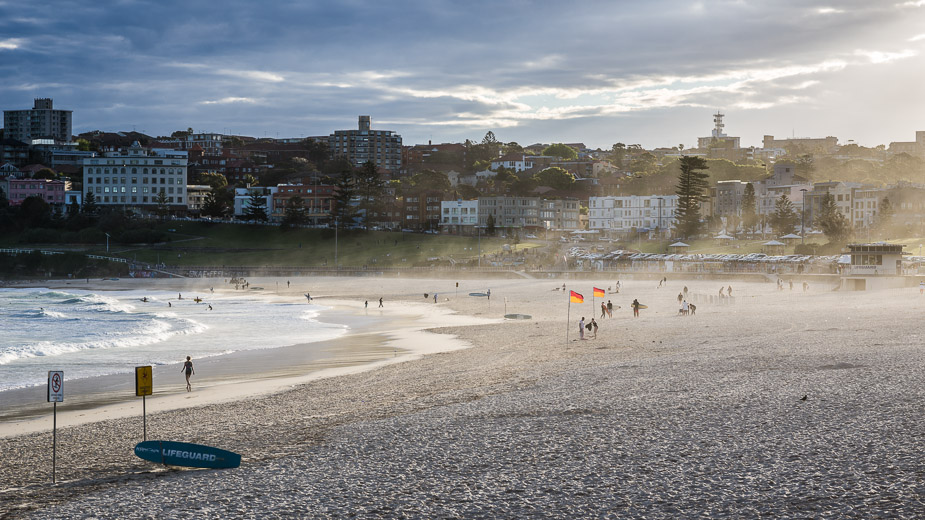 Some boys had setup a yoga ball buried in the sand and were using it as a mini trampoline - much to the delight of about 20 photographers trying to capture the action in various ways. Here's my quadriptych of one of the sequences
We headed around the headland a little further and setup for the sunset and twilight action. We had some good cloud in the sky - perhaps a little too heavy but still much better than the boring cloudless skies of late. About 5 minutes before sunset - and what else do you do with a brand new camera than to take it out into the sea don't you think!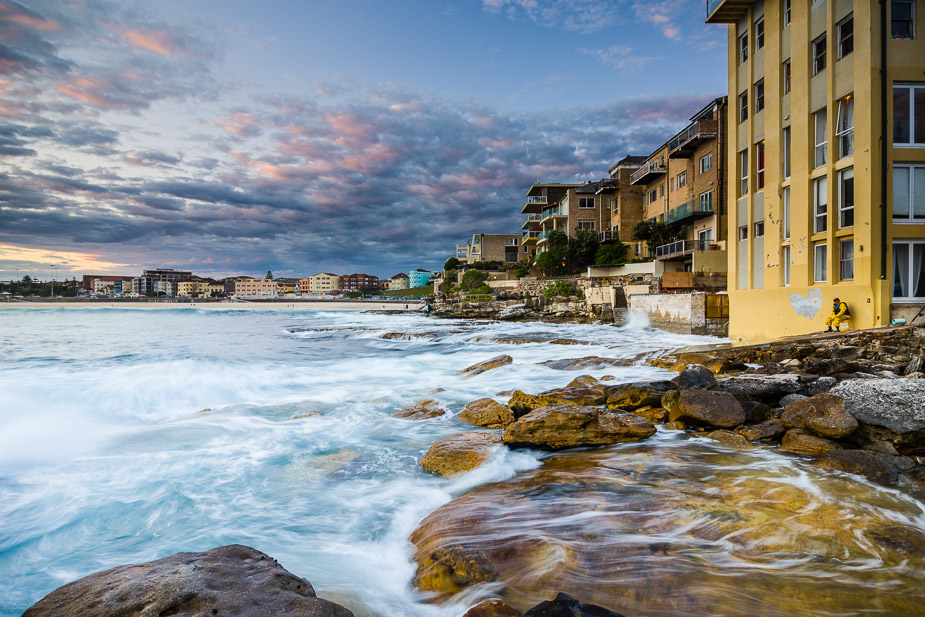 The fisherman were out in action on the rocks (and catching some decent looking fish) - here he's reeling in quite a large salmon just as the sun sets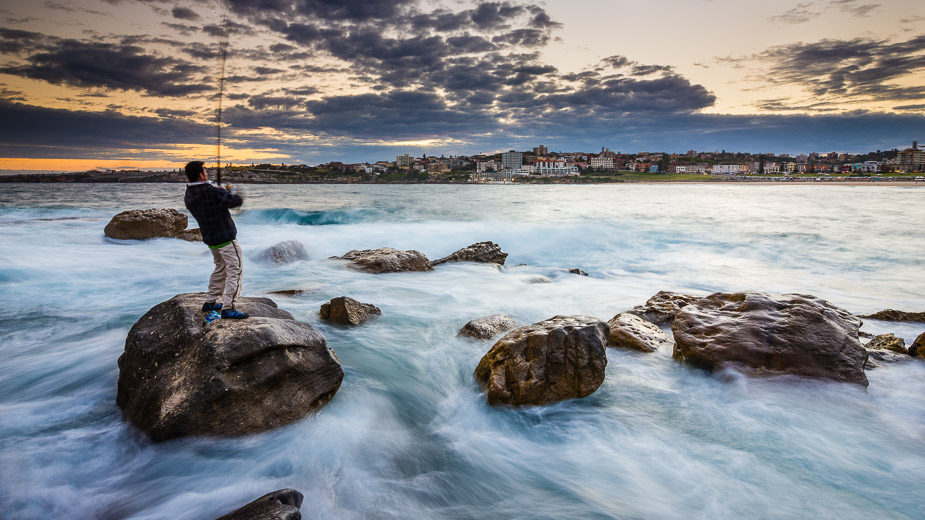 (20 mins) after sunset we turned out attention out to sea - time for a nice long exposure (two minutes with the CPL and 3 stop grad ND)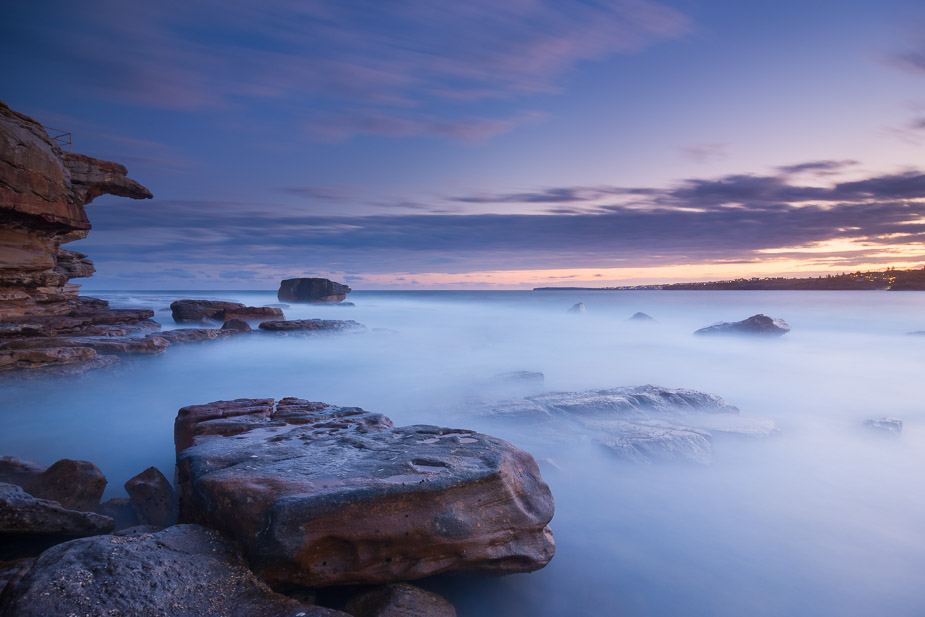 So how did it go... it was a great day, weather was fantastic, the company to match and the camera held up fantastically. I was more than pleasantly surprised at how well the Tokina 12-24 did using it as a full frame lens (even though it's only a crop lens). All of the seascape shots at the end were done with this lens plus my Lee grads and the Heliopan CPL - however even at 100% the images are nicely detailed with very little distortion or vignetting (zoomed to 20mm), they do soften up as you get right near the edges but not anywhere as bad as I was anticipating. The 16-35/4 better be a lot better for the additional $1200!
Lastly I figured I'd try out the high ISO performance of the D600 as we were walking back to Bondi for dinner. Saw this great gash in the sky - curved nicely, mimicking the curve of the beach and waves. Here we are in near darkness at 7:50PM, shot handheld with the 85/1.8G at f/1.8 and 1/80 sec at ISO 12,800! - even at 100% there's grain (luminance noise) but no colour noise - nice...